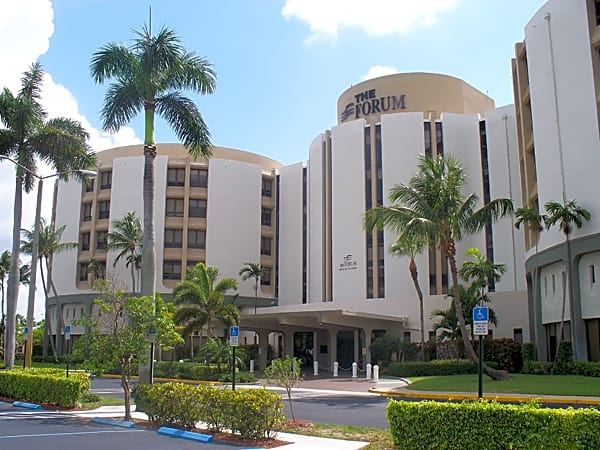 Visualizzare tutte le foto in galleria
Prenota ora online
1 Camera Con 2 Adulti
Modifica la ricerca
Invia ad un tuo amico!
Trovi che il nostro sito utile? Condividi con i tuoi amici!
Si prega di compilare il modulo qui sotto e ti sarà inviata immediatamente.
Si prega di notare che noi non raccogliamo indirizzi e-mail e non trasmetteremo
né per voi né per il vostro amico qualsiasi e-mail non richieste.
Idyllically set along the sandy beaches of Pompano, in the northern Fort Lauderdale area, The Forum Hotel is near a staggering array of regional attractions such as Isle Casino and Racing, Palm-Aire Country Club, Fort Lauderdale Stadium, Pompano Square, Galleria, and Port Everglades.

Accommodation
Suitable for both business and vacation travelers due to its prime location, useful amenities, and mellow environment, The Forum Hotel's contemporary abodes showcase plenty of comfort to make every guest feel at ease. What's more, articles like DVD player, flat-panel TV, premium cable channels, free Wi-Fi and local calls, plus voice mail allow patrons to remain entertained and connected while air conditioning, blackout curtains, refrigerator, microwave, iron/ironing board, desk, not to mention coffee/tea maker evoke a home-like atmosphere. Proficient housekeeping is present daily.

Hotel Facilities
In the morning, The Forum Hotel offers delicious complimentary breakfast in the delightful dining room. Additionally, lodgers have access to a microwave in the quaint lobby, event catering, media library, laundry facilities, free Wi-Fi in public quarters, and air conditioning throughout the building. Moreover, a professional business center, audiovisual equipment, together with multiple conference rooms promote a productive stay while supervised childcare/activities appeal to those traveling with children. Nearby golf, tennis, fishing, and swimming opportunities encourage endless hours of outdoor fun.

Transportation
The Forum Hotel is merely 11 miles from Fort Lauderdale's airport. Furthermore, those traveling by vehicle, RV, bus and/or truck are afforded complimentary parking on the premises.
Come prenotare
Effettuare la prenotazione è facile e sicuro. Inserite le date del vostro soggiorno e inoltrate il formulario.

Dopo che il tipo di camera e le tariffe saranno di nuovo visualizzati potrai scegliere la tariffa prima leggendo le informazioni sulle camere al centro dello schermo, poi cliccando su "Prenota Ora" al lato destro dello stesso. Dopo aver selezionato il tipo di camera che desideri, arriverai al modulo di "Completa la prenotazione". Poi avrai bisogno di rivedere le "Dettagli del soggiorno" e di riempire i campi nella sezione "Dettagli degli ospiti". Assicurati che il tuo nome ed indirizzo email siano scritti correttamente. Una volta fornite tutte le informazioni richieste, clicca sul pulsante "Completa prenotazione".

Per garantirti la sicurezza, il sito utilizza un server commerciale sicuro, che cripta il numero della tua carta di credito e lo decodifica in una forma non utilizzabile.
Visualizzare tutte le foto in galleria
Informazioni sulla zona
Aeroporti

Pompano Beach, FL, United States (PPM) - 2.00 mi
Fort Lauderdale, FL, United States (FXE-Fort Lauderdale Executive) - 3.15 mi
Fort Lauderdale, FL, United States (FLL-Fort Lauderdale - Hollywood Intl.) - 10.64 mi
Boca Raton, FL, United States (BCT-Boca Raton) - 10.72 mi
West Palm Beach, FL, United States (LNA-Lantana) - 25.29 mi
Miami, FL, United States (MIA-Miami Intl.) - 31.04 mi
West Palm Beach, FL, United States (PBI-Palm Beach Intl.) - 32.12 mi
Homestead, FL, United States (HST-Homestead Air Reserve Base) - 53.28 mi